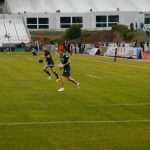 "What makes you happy?"
It was an odd question, what did "happy" mean? Didn't the word "happy" depend on who was feeling it? Didn't the word "happy" depend on who was asking the question?
"Rugby, I enjoy rugby."
"Ah, yes. You would have been very pleased about the Lions' tour."
"The Lions' tour, yes, that was a good result, but the rugby I enjoy is much more esoteric, French Division Two."
There was a look of bafflement. There was no supplementary question, no attempt to discern why an Englishman in Ireland would express a preference for a minor sports team in France.
"Aviron Bayonnais."
There was no flicker of recognition, he had obviously not encountered rugby in the Basque Country.
But why would a rugby match in the Pyrenees-Occidentales department be a cause of happiness? Why would being an Englishman sitting in a stadium filled with thousands of French supporters on a hot day in August be something about which to be happy?
Perhaps it was about solidarity, that sense of belonging to something much bigger than oneself, and that special sense of solidarity that comes from belonging to something for its own sake, for anyone who follows Aviron Bayonnais will know that triumph is a rare feeling. Perhaps it was a solidarity devoid of anything of the mundane or the unpleasant because the French spoken is rapid and accented and is a language far removed from anything found in the "Learning French" book bought for £1.25 in W'.H.Smith in Taunton in 1979, the chief lesson from which was that Mrs Dubois had a pretty hat.
Perhaps solidarity is a source of happiness; perhaps, also, escape is a source of happiness. Two hours in the Stade Jean Dauger were two hours away from a life where sadness is often the order of the day, where there is an increasing struggle to give meaning to experiences, to attempt to re-present reality to those enduring it in such a way that it becomes tolerable. Escaping into a world of noise and song and laughter and music and movement meant finding a place other than the one that was familiar.
Solidarity and escape and the tactile nature of the place: the heat of the sun and the gentle breezes from the Bay of Biscay and the soft touch of the sky blue cotton shirt and an anthem that catches one in the pit of the stomach; there was a caress of welcome, an awareness that this was a place that you felt as well as a place that you saw and heard.
How would one possibly begin to explain such happiness?