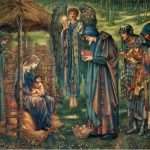 Waking in a Devon guest house on a Sunday morning, BBC Radio 2 provided a companion to the ablutions. A "thought for the day" slot seemed to have a prominent place before the news. Perhaps it was the English air, but the religious sentiments seemed from a different sphere of reality. Going into the town, the noticeboard of the medieval parish church announced there was a "family service" at 10.30 am. What did the notice mean to a stranger?
For years I listened to the BBC Radio 4 panel show "I'm sorry, I haven't a clue" and wondered about the game "Mornington Crescent." It seemed a random naming of stations on the London Underground network until someone said "Mornington Crescent"' and won the game. Having spent three years in London as a student, I would have known the Tube lines well and would try to work out the logic of the name – of course, there was none. When arbitrary connections were challenged, they would be justified by reference to imaginary sets of rules.
Frequently, the language and conduct of the church seems like a game of "Mornington Crescent," its strange and arbitrary behaviour justified by reference to its own sets of rules that are frequently incomprehensible to onlookers and have as much verifiable substance as a sequence of Leicester Square, Acton Town and Waterloo
In college days in the mid-80s, a fellow theological student had on his door a poster that summed up how many of us felt about our theological studies. Many variants can be found on the Net.
Jesus said unto them: Who do you say that I am?

And they replied: 'You are the eschatological manifestation of the ground of our being, the kerygma in which we find the ultimate meaning of our interpersonal relationship.'

And Jesus said: 'What?'
It seems that the church has taken a story of infinite simplicity and rendered it so complicated that we are no longer sure that we understand it ourselves. It would be much easier to close the whole operation down and start again, though there might be some opposition from the bishops and the deans and the archdeacons and the canons and all the other people who attach so much importance to weird traditions and funny names. The chances of the church contemplating such a radical return to its roots are zero.
A game of 'Mornington Crescent' is simple by comparison – and much more comprehensible.