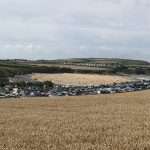 A first division day, two hours drive to Newquay and then the beach at Harlyn Bay.
In the years of my West Country childhood, the seaside had always a sense of the magical, the exotic; a place where reality was different. Being an obsessive classifier, the seaside in youthful perception fell into four divisions.
The fourth division was the Bristol Channel coast of Somerset; it ran from Weston-Super-Mare down to the shores along the north of Exmoor. It was a place for a day trip, or, if time was tight, for an evening out. Memories of Brean Down seem always to include chips dowsed in vinegar. Travelling across Bridgwater Bay, the area became one of interest to naturalists and geologists. The shoreline at Kilve was a place to be visited, but the lingering memory of it was on Good Friday 1980 and arriving at a pub in search of lunch, fifteen minutes before the 2 pm closing time.
A step up to the third division took us to Dorset, which offered a string of options in a short space. Bridport and its seaside at West Bay and West Bexington provided places to cast fishing lines deep into the waters. Lyme Regis was for holidays, the details of which remain as fresh as forty years ago, a place to which I returned with great happiness last May. Weymouth was for the village outing on the first Monday of the school holidays; it was called the "Sunday School outing", but the connection with Sunday School seemed tenuous at best. Poole, with its vast harbour, was associated with visits to a grandmother's friend who served tea with sugar lumps in wrappers that bore the names of local hotels; no-one ever questioned the propriety of emptying the contents of sugar bowls into her handbag.
Devon was in the second division. The south coast was an undiscovered country, apart from days out from school to Teignmouth and the towns of Torbay. Holidays meant the north coast and the vast beach at Westward Ho! There were beach games and walks, and afternoons spent watching the local cricket team, and evenings drinking shandy outside pubs, and trips to Appledore and Bideford and Barnstaple and Ilfracombe.
Unparalleled, and rarely reached, Cornwall was top of the league. Even its placenames spoke of magical places; its lanes offered the constant promise of places hidden and beautiful. Going to Saint Ives in 1973 remains the highlight of those years. It had not then the aura of sophistication it later acquired, but even four decades ago was a place apart. Goonhilly Down captured the imagination as a set from science fiction movie.
The odd thing is that the seaside became so important. It was not that we lived far from the sea, the Bristol Channel was no more than fifteen miles, but that the journey to the coast seemed a transport to a different world.
It was good to spend a day in the premier league.