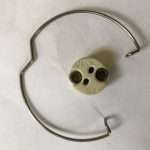 In times before telephones were common, a story is told of a farmer attending a cattle sale in order to buy a new bull for his herd. Bidding at the auction was light and he was delighted to purchase a fine animal for a very reasonable price. Meeting old friends for lunch and buying drinks for casual acquaintances, he remembered that he must go to the post office and send a telegram home for someone to come with a trailer to collect the new sire of the farm's calves. Reaching the counter, he realised that he had spent rather more on refreshments than he intended and had only a couple of coins left in his pocket. The post office clerk advised him that he had money sufficient only to send one word in the telegram. Unfazed by the problem, he took a slip and wrote on it, "comfortable."
Ingenuity among farmers was something assumed in times past. In the days before the Common Agricultural Policy, and in the times when many farms were very small, there were times when there was simply no cash to spare. Accounts might only be settled when stock or crops were sold. Even in the late 1980s, there were still shops in Northern Ireland that would give a 10% discount to those who could go to the till and pay the price in full by cash or by cheque, so used were they to members of the farming community who had no choice but to ask that the cost of their purchases be added to their account.
A philosophy of make do and mend was pervasive. Machinery was maintained by farmers themselves, or with the help of a neighbour; professional veterinary care could only be contemplated in an emergency; investment in developing or expanding farms was difficult when income was so uncertain that a bank manager would have rejected a loan application. Making things last, fixing things oneself, were the only options.
Endeavouring to embrace the spirit of improvisation and searching shops for one of the tiny sockets into which a halogen ceiling light might plug, together with a retaining ring to hold the bulb in place, there is a sense of frustration that one cannot buy such things in a high street store, that an inquiry produces a look of bafflement. The farmer who sent the one word telegram would have probably devised an ingenious solution, fashioned something from parts taken from one of the redundant devices that would have accumulated over the years. However, had he enjoyed access to the Internet, his message home would have cost nothing, and he might have found parts to ensure machinery ran indefinitely. Amazon will be the next place to search for the socket.