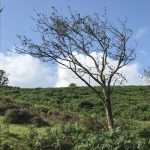 An amber warning of snow and ice across the West Country was issued by the Met Office. Across the lowlands of Sedgemoor, the snow was more a niggling nuisance than a serious obstacle, on the uplands of Exmoor and Dartmoor, roads became impassable. On such days as this, Dartmoor is a place apart.
Suffering asthma severe enough to be dispatched to the pure air of the three hundred and sixty-five square miles of Devon's National Park upland, there were days on the moor when the outside world could have ceased to exist, the snow was so deep. The snow would linger long after the last slushy traces had disappeared from the roadsides of the dual carriageways that passed to the north and south, carrying traffic westward to Plymouth and Cornwall, or eastward toward Exeter and beyond. Eventually, the snow would clear to reveal the brown greenness of the growth beneath.
The school lay in a fold in the hills, unreachable without crossing open moorland in some direction. Yet the spartan regime of the fundamentalist Christian education could detract nothing from the beauty of the place; there was a magical quality in the valleys and the tors and the placenames.
This weekend's late winter snow will have revealed the moor in its harsh extremes. Walks over high moorland after a harsh winter would have brought encounters with carcases of animals that had not the strength to survive the cold, visible reminders of the challenges of the moorland weather, reminders of why the moor continues to be a place of remoteness and isolation.
Spending a weekend on the moor last summer, when roads were busy with visitors and when tour parties saw those parts of Dartmoor that might be navigated by motor coaches, there was not the sense of the authenticity of the countryside in those distant schooldays. Warm sunshine and gentle breezes contrasted sharply with memories of March days at school.
Severe weather was at the heart of the character of Dartmoor. Late snow, drifting on high ground, biting winds that stung the skin, narrow roads that were covered by ice, a landscape for which "inhospitable" was not an adequate word: the things that repelled were the things that preserved the place as one that continued to attract. In those distant days, there was no certainty of springtime until May was reached. Summer term finished in early July and, by the time school resumed in the second week in September, autumn had arrived. Schoolday Dartmoor was always cool, sometimes chilly, occasionally downright cold, but to watch it emerge from winter snows was to watch a whole world wake from slumbers.