The death of Jesus of Nazareth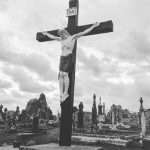 What did the death of Jesus mean to those in Jerusalem?
To the religious leaders, it would have been a welcome development, religions making absolute claims cannot be open to dissenting voices for such voices will raise questions about the religion. Dissenting voices will cause people to question the validity of the religion; they will dilute the authority of the religious leaders; they will lead to people turning away from the religion. Jesus of Nazareth challenged the religious establishment in Jerusalem, to fail to silence him would have endangered the future of a religion that was based around the Temple and its sacrifices; it would have reduced the power of the priests and threatened their social standing and lucrative incomes. The death of Jesus would have been welcomed by the religious elite; the murder of dissidents by religious fundamentalists is not a phenomenon that has gone away.
To the imperial authorities, the removal of Jesus reduced instability. Pontius Pilate was an inept administrator, inflaming anger in the city unnecessarily by raiding the Temple treasury for funds to improve the city's water supply and bringing army standards with their images of the "divine" emperor among people who regarded such things as a blasphemy. In a violent, authoritarian society where order was maintained by repression, the death of an itinerant Galilean preacher would have seemed a matter of plain expediency. Authoritarian rulers have always employed violence when their position has been threatened, Machiavelli wrote a handbook on how to rule by fear and force and the tradition has continued. Watch news from Russia or miscellaneous African dictatorships and one sees that Pilate's approach of expediency is still adopted.
The religious and political elites in the time of Jesus are mirrored by religious and political powers in the present time. And what of the general populace of the city? What of the crowds who cheered on a Sunday and bayed for blood on a Friday? If social media have taught us anything, it is that mob rule is a sudden and frightening phenomenon. Read comments on controversial news stories on forums, read reactions on Twitter, and the basest of human nature seems quickly to manifest itself. It is not difficult to imagine that who use obscene and threatening language on the Internet being among the crowd who called for the death of Jesus. There would have been cheers at his execution, just as there were among those who once attended public hangings as a form of entertainment.
The death of Jesus of Nazareth was not a significant religious moment for the three groups who shaped the day: it was welcomed, it was expedient, it was popular. Look around, and those groups are still with us.