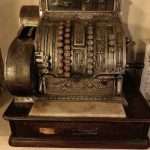 Thursday evening has become a time to sit in the settle at one side of the stove in the village pub and to ponder. It is not hard to close the eyes and to imagine the voices of those who have gone before.
Laurence would have been there; thick black-framed glasses, black hair, black jacket and trousers, black bicycle, a farm worker from teenage years until his premature end. Laurence, standing with a cigarette in his hand and laughing at the stories told, was the embodiment of a community that has disappeared.
Pictures taken by a local photographer hang around the walls of the bar, scenes of village life; the use of monochrome film adds to a sense of them belonging to a time now past. A scene from a local wassail, with the darkness and shadows of a January night, seems almost sinister. Less ominous is the picture of a line of people sat on a line of chairs outside the front of the pub. Once a week, in times before the ownership of motor cars was pervasive, one of the doctors from the local practice would come and hold a surgery in the parlour of the pub on a Wednesday afternoon. The photograph would suggest an air of jollity about the gathering, something not likely among people who had grown up in the days before the National Health Service who would have treated attendance at a doctor's clinic as a matter of the utmost seriousness, chiefly because, before 1948, it would have cost them a significant part of their week's income.
A handful of farm implements adorn the ceiling, a scythe and a pitchfork are reminders of the manual nature of agricultural work until the mid-20th Century, and reminders of how many workers were once needed to work the land that surrounds the village.
On a shelf at one side of the room, sits an antique cash register. It's use behind the bar is still remembered by those of riper years. Pre-decimal, it endured as a cash drawer when pounds shillings and pence disappeared into folk memory. It seems almost odd, a reminder that the pub is a business and not a community centre or social service. In a building almost devoid of commercialism, the business of earning an income must still be a pressing reality.
The silence comes to an end with the arrival of the first of the regular customers who sit in a semi-circle around the stove, a parliament of the grey-haired, a last repository of tales of former times.