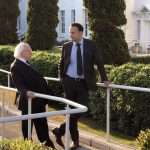 Taioseach Leo Varadkar this evening tweeted, "Lovely evening for an Article 28 meeting with the President." Article 28 of the Irish Constitution includes among its stipulations, "The Taoiseach shall keep the President generally informed on matters of domestic and international policy." Presumably, the prime minister had travelled up to the Phoenix Park to talk to President Michael D. Higgins about political issues, calling in the early evening because the president, an enthusiastic supporter of the Irish soccer team, will probably have wanted to watch the international match between France and Ireland in Paris.
The photograph was striking not because the premier had gone to brief the president, Michael D.Higgins is a seasoned politician and will have been familiar with every detail and every nuance of recent political events. He will have followed the referendum debate and results; he will have mulled over relationships with Northern Ireland; he will have pondered the morass into which Britain has walked in its Brexit debate and wondered how such a muddle could have been possible and what its implications will be for his own country. The President will not have needed to be informed, either generally or particularly.
The photograph is striking, and Leo Vardakar clearly recognised it to be so, or he would not have shared it, because it shows an relationship of ease and confidence between the head of state and his prime minister. Standing in the May evening sunshine outside Áras an Uachtaráin, the two might have been farmers standing at a crossroads, old friends at a race meeting or a GAA match, or neighbours discussing their respective gardens. The captions possible are plentiful, but, whatever may have been said, the mood is one of happiness.
The gentle, softly-spoken, avuncular Michael D. Higgins has been a wonderful president. Always popular, The Saw Doctors' song, "Michael D. rockin' in the Dail" was a measure of the affection in which he was held when a Labour Party deputy for Galway, he has become an institution. Easily mimicked, even the impressionists have been gentle when the have chosen to assume his voice. When he was elected in 2011, one news source reported that Ireland had elected a poet as its new president.
Perhaps a poet-president was a wise choice. In times of polemical politics and deep polarisation, the capacity for words other than those of stridency and confrontation is a gift. Being able to speak of a shared humanity and deeper values allows the possibility of rising above party conflicts. This evening, the conversation looks as though it had an altogether lighter air.