Football on a Sunday afternoon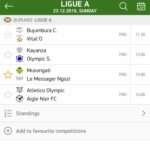 English football clubs have been pre-eminent in the world for the past two decades, but have never translated their commercial dominance into success on the pitch. The dominance of the English top tier has been a process accumulating momentum for two decades. The process was becoming evident in 1998.
Arriving in the Tanzanian capital of Dar Es Salaam late on a Tuesday evening, we had stayed at a convent near the airport before attending a seminar the next morning and travelling inland to stay in the town of Njombe. After having a meal, we went into the hotel's lounge where a television on the wall was showing a football match. "Welcome to Ewood Park, Blackburn on a cool autumn evening," said the commentator. Had I travelled so far in order to watch a Premiership football match? I realised it was a game that had been played on Monday evening, before we had left Belfast. I leaned over to John our driver and said the team that wins this match will score three goals in the last ten minutes. He looked at me, bemused until I explained that we were watching a recording. Live football then was not as pervasive as it has become in recent years.
In 2010, I sat in a cafe in Kigali in Rwanda and watched the second half of Saturday afternoon match end of season. So caught up with the game, I failed to remember that Rwanda was one hour ahead of summer time in England and that the time was not approaching five o'clock as it was in Manchester, but approaching six o'clock when the equatorial darkness would suddenly descend. Our host was too polite to suggest that we should not have delayed; our journey from the capital was made on hazardous African roads at night, not something to be taken casually.
On a visit, a year later, at the Burundi border, the driver collecting us was listening to an excited commentator. "An African match?" I asked.
He looked at me as if I were eccentric, 'No – Chelsea against Arsenal'.
It had seemed astonishing that football played in a country which has not won an international title since 1966, by clubs which between them can muster a mere four triumphs in the twenty years of the Champions League, has managed to become such a global brand, finding massive audiences in Asia and Africa.
If any proof were needed of the all pervasive presence of English football, it came in a rural Rwandan village in 2012: lying on a pathway there was the wrapper from a packet of Premier League stickers. Boys in this small village seemed more likely able to name the players in Manchester United or Manchester City or Chelsea or Arsenal teams, than know anything of the sportsmen in their own country.
This afternoon, there came a moment which suggested that, after twenty years, the English hegemony might not be total. Having a free phone App called, "FlashScore" allows me to keep up with the scores of sports teams I follow, Yeovil Town Football Club, Leinster Rugby, and, my favourite team of all, the rugbymen of Aviron Bayonnais. Checking scores.of rival teams this afternoon, I realised that the possibilities offered by the app were far wider than I had imagined. It is possible to get the scores from almost every country – I can check the results from Burundi as easily as those closer to home. Perhaps people here might one day follow football in Africa as people in Africa follow football here.