Digital killed the video store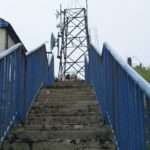 Growing up in times when our primary school teacher taught with enthusiasm the stories of British inventions in the Eighteenth and Nineteenth Centuries, there was a confidence that there would always be new and exciting things, that while we sat at our desks reading the words on the blackboard, there were white-coated men in laboratories and workshops refining the latest pieces of technology. Gadgetry seemed part of the spirit of the times, as television sets became polychrome and radios were transistorised and refrigerators and electric cookers became evermore commonplace, there was a sense of enjoyment in all the things that seemed modern and technical.
The moment when technology seemed to become really exciting was when the focus of research switched to entertainment. Domestic appliances were fine, but not nearly interesting as being able to record the BBC pop charts on your own cassette recorder, or being able play table tennis on your television set.
Videocassette players seemed the best thing of all. Up until that time, watching a film at home demanded a projector. Catalogues might advertise 8 mm Disney cartoons, each a few minutes long. Affluent families might have 8 mm cine cameras on which they recorded images of their summer holidays, or special occasions, or significant events – there would be vision, but no sound.
The arrival of VHS and Betamax videocasettes meant the possibility of having a full length feature film, with sound and vision, to watch whenever you chose. VCR players were expensive and those who had them in the early-1980s would have been the envy of their friends. As video players became cheaper and their presence became widespread, so the demand for videocasettes rose and video hire stores appeared everywhere. Even the smallest of towns would have somewhere you could go and rent a video for a few pounds a night. They entered the cinema spirit by selling popcorn and crisps and sweets along with the videocassettes they hired out – it was a lucrative trade.
BBC Radio 6 this evening reported that the penultimate surviving branch of the Blockbuster chain of video hire stores had closed; it was in Western Australia. Only one store remains from what was once a worldwide chain – in a rural town in the United States.
Perhaps it is a fulfilment of the maxim that nothing dates as fast as the contemporary, but it is also a further ceding of power to those who control the media. VCR players and cassettes were controlled by a person in their own home, digital feeds are controlled by the media companies and the internet service providers. Odd as it seems, there was an expression of something democratic in pushing a VHS cassette into a player. In logging into a digital streaming service, there is a sense of being subservient.