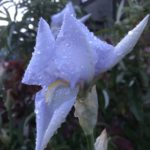 It is white. If it looks mauve, that's because the picture was taken in the evening light. It is forty years old and looks as it does at the moment for only a brief time each May.
It is white, but it and its companions might have been any colour. They were gathered from the rubbish heap, rhizomes discarded because they had been muddled with others, either after they had been cut, or in the dispatch shed where the irises were packed before being sent off to addresses around the country. We were free to take rhizomes from the rubbish heap, they had no value and a handful of them might turn out to be a range of entirely different colours.
Two summers were spent at the nursery. Two months in 1978, and four months between completing A-Levels and starting university in 1979. A total of six months of work, and hardly any awareness of what an iris looked like. By the time the summer came and the season for cutting and dispatching rhizomes arrived, all traces of the flowers had long since disappeared. That they were May-flowering was an easily learned fact, but there was no memory of how the fields of the nursery had looked during May. Irises seemed half-dead, unattractive plants, it was a mystery why people went to occasions like the Chelsea Flower Show and placed orders for dozens to be sent to them by post.
The nursery's specialisms were irises and peonies. The peonies were even less attractive than the irises. Peony roots were sent to the customers. Presumably these roots had once been the source of beautiful flowers, but the brown clumps that were dug and posted gave little clue of the potential they held. On one occasion, being allowed an afternoon in the packing shed instead of out in the fields, it was odd to look at the peony roots and consider how much people would pay for them. The top price was £6.50 or so for the more expensive ones, that's around £40 each in 2019 values. Who would spend £40 on a single peony that might not grow at all? (Some of them didn't grow: irate customers would arrive at the nursery seeking out the foreman who would tell them calmly that he was afraid that the foreman was not around the yard that day).
Peonies never found their way onto the rubbish heap, presumably they were too valuable to muddle. Forty years on, the irises are staging their brief annual show.