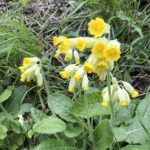 The dairy herd of twenty cows gathered in the concrete yard each evening awaiting the moment when they could enter the cow stalls. Once the three wooden doors were opened, each cow shuffle into her customary place. A mixture of Frisian, Guernsey and Jersey, each member had her own name. The names were hand written on a printed chart. After each milking, the pints of milk yielded by each cow would be recorded.
The cows reached the yard through a meadow that lay beyond a narrow stream that was crossed by a wooden bridge. Such detail is important because it reinforces the memory that it must have summertime. At wet times of the year the ground on the meadow side of the bridge became broken up by the heavy tread of the cows. Grass would disappear in black, clinging mud.
In the moment remembered, I walked from the yard out into the meadow and stooped to admire a clump of cowslips that grew among the thick grazing. The dryness of the ground, the abundance of the grass, the warmth of the evening, the blueness of the sky: the moment always seemed to have been in summer. Only in summer holidays would there have been the opportunity to have walked out across the meadow after evening milking.
Walking a lane today, in the daily exercise permitted by the government, there was a feeling of delight at seeing cowslips growing on a green grass bank. The tiny yellow flowers were a declaration of the enduring renewal of nature, whatever vicissitudes might befall humanity.
A question mark arose. If cowslips were growing at a roadside in the closing days of March, could they have also been growing on pasture land in late July or August?
Cowslips are a spring flower. The Latin name for cowslips is primula veris. "Ver" is Latin for spring, it is the word that gives us the vernal equinox.
If cowslips grow only from December to May, they could not have been growing in the meadow on a summer evening. The long-cherished memory is a misremembering.
Perhaps there is a conflation of memories into a single moment. Perhaps the cowslips were seen in springtime and the evening walk through the thick grass of the meadow came in summer. Perhaps the subconscious adorned the July walk with the beauty of the flowers. Perhaps the cowslips reflect some desire rooted deep in the psyche.