Cancelling Christmas would not be a problem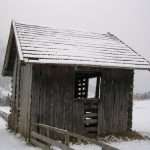 Traffic bound for shopping centres on a Saturday evening seemed contrary to the normal order of things in Dublin. Sitting at traffic lights, my companion watched the passing lines of cars, "this was not what Christmas was like – it used to be different". After a rugby match at Lansdowne Road, we drove back through the city centre. After ten o'clock, the streets were filled with revellers, men in Christmas jumpers, women in cocktail dresses that offered little protection against the damp chill of the December air, and the odd Santa figure – one of whom was waving a collection bucket.
Had any of it anything to do with the birth of a child in an obscure corner of Palestine?
Of course not. The celebrations are rooted in something far more visceral than the thought of divinity becoming incarnate. There is a human instinct to celebrate at triumph over adversity; the days are turning, the winter will pass, we have survived and the year ahead will offer opportunities as yet unknown. The undercurrent of sexuality reflects the instinct to survive, to continue the line, to have a presence in the future. Look at the history of the pagan midwinter festivals and what might be encountered on the streets of Dublin is not so far removed from the past: look at Saturnalia, at Yule, at the numerous festivities that marked midwinter and what now takes place may seem mild.
No, this is not Christmas was like, but the young woman who wobbled across the road at the junction of Harcourt Street and Cuffe Street, her short, red dress stretched to capacity, and her walk probably affected by a combination of alcohol and very high heels, was not celebrating Christmas, in any religious sense of that word.
There are times when it would be more honest for the church to take its celebration and move it to some date in the year where it did not disappear under a pile of presents and countless bottles of drink, but perhaps there is no cause to be unduly concerned. The early church did not celebrate Christmas at all, its introduction into the Christian calendar only coming in later centuries when the church sought to supplant the pagan celebrations with a feast of its own.
And if the presence of Christ is not acknowledged in most of what takes place, he is probably relieved. Would he have wanted to be associated with a fight outside a pub, or someone vomiting in the street?
It is not as though many people noticed his presence when he was born – bachelor farmers down from the hills, unwashed, unkempt; a group of foreigners who would probably have problems getting through immigration if they travelled today – hardly an impressive list. People did not welcome him, "he came unto his own and his own received him not", as Saint John puts it in the King James Version of the Bible.  Bethlehem and Nazareth and Jerusalem were probably as rough as Dublin on a Saturday before Christmas.
Christmas may not be what it was, but perhaps it was never what it was imagined to be. Acknowledging the presence of Jesus has always been about individual choice, on a hillside in Palestine, or on the streets of Dublin.