Sermon for Ash Wednesday, 2015 (First of a Lent Series: Who are we?)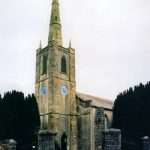 "But whenever you pray, go into your room and shut the door and pray to your Father who is in secret; and your Father who sees in secret will reward you" Matthew 6:6
"Who are we?" we ask ourselves during Lent this year, and the Ash Wednesday Gospel reading is very blunt: we are people who are responsible for ourselves, for our own thoughts, for our own decisions, for the ways in which we live our lives. Lent begins with Jesus' words in Saint Matthew Chapter 6, words in which Jesus tells us that how God sees us is determined by our own decisions."Who are we?" we ask, and the answer is clear.
Growing up in the Anglican tradition, we are taught who we are. The catechism many of us would have learned when we were young, even if we took no notice of it, begins with two questions, "What is your name?" and "Who gave you this name?" We were taught that our faith begins with the individual person; our faith is about our own individual response to Jesus, no-one else can believe for us, no-one else can have faith for us.
Jesus treats us as individual people. Our name marks us out as individual people and the catechism tells us that it is as individual people that we are special to God. The South African farmer and evangelist, Angus Buchan tells a story of a man who realized how special he was to the Lord,
"The late William Duma, a Zulu preacher from Durban, South Africa, was a small man in stature but a mighty man in the Spirit. He was on his way home one night in his little motor car when he was stopped by gangsters. They had put a big log across the road and when he stopped the thieves ran at him with steel pipes, knives and revolvers. They told him to hand over the keys of his car and were about to kill him, when he looked up at them and said with fire in his eyes, "Do you know who I am?" He spoke with such authority that the thieves dropped their weapons and ran as fast as they could back into the bush. The little man moved the log, got back into his car and drove home safely to his house. He knew who he was in Christ. He knew that Jesus Christ was his Defender, his Lord and his God".
William Duma could shout at his would be murderers, "do you know who I am?" because he knew Jesus loved him enough to die for him, that he was someone infinitely precious to God. Jesus says to us that "your Father who sees in secret will reward you", he will reward us because we are precious to him, so like William Duma, we should be able to say, "do you know who we are?"
Do we ever go through life with that thought? Do we ever approach each day thinking that no matter what happens to us, we matter to God? If you were asked "who are you?", if we were asked "who are we?", then how would we respond? When we got up this morning, did we think, "I am someone special because, no matter what anyone else might think, I am special to God?" In the reading from the Second Letter to the Corinthians, in Chapter 5 Verse 21, Saint Paul expresses it in theological terms, "For our sake he made him to be sin who knew no sin, so that in him we might become the righteousness of God". Who are we? Saint Paul would tell us that, through Jesus, we are the righteousness of God, and that is something very special.
When we were baptized, it was a recognition of us being special people. Those who still remember the Catechism will recall that it says of our baptism, "wherein I was made a member of Christ, the child of God, and an inheritor of the kingdom of heaven".
Who are we? We are people who matter enough to God that he acts to save us before we even exist; we have done nothing to deserve it, we could do nothing to deserve it. Our baptism is a recognition that, even before we are born, God's grace goes before us. The Letter to the Romans Chapter 5 Verse 8 says, "But God proves his love for us in that while we still were sinners Christ died for us," and the First Letter of Saint John Chapter 4 Verse 19 say, "We love because he first loved us". Did we ever give that any thought, that our faith starts not with going to church, or being taught at school, or learning from our parents, but with God loving us before we could even know? Who are we? We are God's people. We are God's people before we even knew it.
"Do you know who I am?" asked William Duma and we can ask the same question of everyone and everything that confronts us, "do you know who we are?" Perhaps we would not do so with the faith and the confidence shown by him, perhaps people would not run away in terror after meeting with us, but our faith should change the people we are and the way in which we see ourselves.
"Ah, but that doesn't apply to me", we might say. We are not particularly religious, we haven't done anything that makes us different, but if we say that, we have missed the point. Our faith is not about anything we have done, it is about what God has done for us.
"Whenever you pray, go into your room and shut the door and pray to your Father who is in secret; and your Father who sees in secret will reward you", says Jesus. God sees each of us as individuals, God saves each of us as individuals; the question is, "do we recognize ourselves?"
"Who are we?" We are special people, we are people special  to God, we are people special enough for God's son Jesus to die for us.