Just because it is said, it doesn't mean that it is so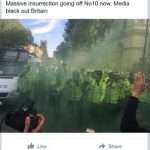 There is a moment in 1970, the fourth episode of the BBC drama series "Our Friends in the North" when the anarchist group, to which Nicky, the leading character, belongs, launch a machine gun attack on government buildings in London.  Nicky believes this will be a major news story only to find that the security services have successfully completely suppressed the story.
Perhaps in 1970, such an attack in reality might have been kept from the media.  Four decades later and the suppression of stories has become impossible, everything from the humble mobile phone in an individual's pocket to the all embracing world wide web ensures that events can be around the world in seconds.  Of course, just because a story is told does not mean that it is true, human beings are fallible both in their recall and in their interpretation of events.
From a time when it was easy to suppress a story, we have reached a time when it is easy to invent a story. Last Saturday, two days after the success of the Conservative Party in the British general election, Facebook carried extraordinary stories of an "insurrection" in London. "Massive insurrection going off No 10 now. Media black out Britain", declared one post. It was pure fantasy, there was no need for the story to be suppressed because there was no story. The Guardian reported  the demonstration that was allegedly a "massive insurrection," it was a march on Downing Street by a couple of hundred anti-austerity, it was neither massive, nor was it an insurrection.
The radical Left have become like Christian fundamentalists in their attachment to a belief that an "end time" is  coming and that a new age is imminent, that each event is a further confirmation of the certainty of what is approaching. Just as the fundamentalists believe that a lack of coverage of their religious claims, and a rejection of their religious interpretation of events, serves to confirm that the world is in the hands of evil forces, so the would be revolutionaries believe that the failure of their political claims to appear in the media, and a rejection of their political interpretations, serves to confirm that the world is controlled by a capitalist conspiracy. One can no more argue with the revolutionaries than one can try to reason with the fundamentalists.
Had the alleged events, on which the episode of "Our Friends in the North" was based, occurred in 2015, there would have been video recordings and postings on Facebook and Twitter, but just as firing a gun at a building does not constitute a revolution, so turning up with a couple of hundred people and scuffling with policemen does not constitute an insurrection.
The fundamentalists interpret each historical occurrence as a further step towards the end and there are those on the radical Left who will believe that the general election result is the harbinger of revolution. Neither of them is right, but to attempt to tell them so is pointless.