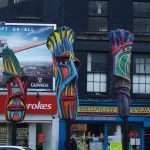 Serendipity? Is that the word for it? An accidental, but fortunate discovery. Serendipitous.
One of the Christmas presents to the good lady of the house was a pair of tickets for Duke Special, an artist whose work she has enjoyed for some years. The concert was in Dublin's Vicar Street, maybe eighty miles from home, but on a Saturday evening in May it was not a too forbidding prospect. The drive last night was easy, there was even free on street parking within yards of the doorway of Vicar Street.
The tickets had advised that the evening's performance would begin at 8.30, but at 8.15 the first of the support acts appeared on stage, Robyn G Shiels, a blues singer from Northern Ireland. The audience sat in a respectful and attentive silence, not something that one can now assume at any performance, even for the main act. Shiels acknowledged his material was not cheerful stuff, songs with titles like "Hello Death" are not likely to be filled with fun. But if blues music doesn't reflect the whole range of human experience, then it's not the blues. If gritty integrity characterizes  Ulstermen and is something also to be expected from blues music, then Shiels was gritty integrity squared.
After Robyn G Shiels, female vocalist Lisa O'Neill arrived on stage with instant impact, singing an a capella version of her song "Red Gansai". Assertive, combative even, O'Neill established an instant rapport with the audience, happy to engage in banter with those prepared to comment. Song lyrics ran from the social realism of "Nasty Man" to the magical realism of "Elvis in my kitchen." O'Neill is unapologetically different, distinctive, in your face, and was warmly received. Had it been polite to have sought an encore from a supporting artist, one felt there would have been shouts for one.
The annoying thing during both performances was a constant niggling thought in my head as to what artist they might be like, the mental replaying of other music from other singers interrupting the enjoyment of what was happening on stage. Why couldn't they just be like themselves? Why couldn't they just be listened to as people who sang their own songs in their own way?
The worst thing about the sort of stuff that wins television shows and tops the charts is that there is no attempt at distinctiveness or originality, there is certainly no attempt at grittiness. We live in the age of songs covered repeatedly, of groups manufactured by commercial producers, of blandness. Robyn G Shiels and Lisa O'Neill are not the stuff for which ten year old girls would text in their votes to a television station, they are real musicians who play real music at real gigs – nothing manufactured, no kitsch; their presence made the evening different from any other.
Serendipity.
(Yeah, I know the sculptures were moved, but it's the only picture I have of that part of Thomas Street)