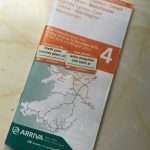 Standing on the platform at Betws y Coed station on a Thursday afternoon in April five years ago, railway timetables became a matter for discussion. There was a train that departed from Betws y Coed to make the 27 minute journey to Blaenau Ffestiniog at 0559 every morning from Monday to Saturday. Who travelled the line in that beautiful but remote corner of Wales at such a time of the morning? In an age of rationalisation and market economics, to what workplace were people travelling through the darkness of winter mornings?
A very odd answer to the questions appeared this morning, attempting to tidy the car so as not to leave it a scene of complete chaos before departing for annual holidays, six months of miscellaneous papers were removed from the back seat. Letters dating from February were gathered for dispatch to the recycling bin. From beneath the passenger sea protruded the orange corner of a booklet, assuming it to be something of a religious nature, there was a surprise when it turned out to be a railway timetable and not a timetable for any railway in Ireland, but for trains in North Wales. Not having travelled on the railway in North Wales in many years (the Betws y Coed visit was by car), and not having taken the car to Britain for five years, it was a strange discovery.
However, the timetable, which was for the current period, arrived in the car, there was a question to be answered. Turning to the timetable for the trains between Betws y Coed and Blaenau Ffestiniog, there was an expectation that the early departure must surely have disappeared from the schedules, but it was still there. The journey is now three minutes longer and the departure is five minutes earlier, but each morning from Monday to Saturday, a train departs Betws y Coed at 0554 and arrives at Blaenau Ffestiniog at 0624.
The mystery of how the booklet came to be under the car seat was surpassed by a childish sense of delight that while most people still slept, this train rolled through the Welsh mountain valleys. It evoked a feeling that, being childish, is hard to articulate. Perhaps it was about a sense of security, perhaps it was about a sense of the world being a place of order as well as the chaos seen on the television news, perhaps it was about a feeling that the world was a richer place than the politicians would tell us when such a service continues, perhaps it was simply about a boyish delight in trains.
May the 0554 departure from Betws y Coed continue for years to come, its existence bringing delight to strangers in faraway places.