August Bank Holiday Monday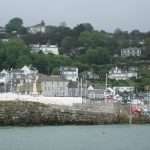 It was August Bank Holiday Monday in England. It was on one such day in the early-1970s that my father took me on a fishing expedition from Lyme Regis; perhaps fixing in my head the idea that Lyme Regis was the sort of place one should go on an August Bank Holiday.
Unfortunately, August Bank Holiday Monday is a Mrs Warboys day. On Mrs Warboys days, the entire populations of large cities decide it is the very moment for the whole family to jump in the motor car and to head for a seaside town. These seaside towns are there every other day of the year and are pleasant places for a walk even in the winter months, but only on Mrs Warboys days are they the focus of such irrational mass hysteria.
Mrs Warboys days represent the triumph of hope over experience. Perhaps they are the aspiration of people for a bygone age; a time when they were young when going to the seaside for a day out was a major landmark in the year. There is a collective consciousness in which the seaside means sandy beaches and stripy deck chairs; and arm bands and rubber rings; and buckets and spades and beach balls; and brass bands and Punch and Judy. Mrs Warboys days were about taste as well as sight and sound and feeling; they were about candy floss and ice creams; they had the saltiness of cockles and mussels and fish and chips; they had the coolness of bottles of Coke and flat English beer.
In search of an idyll that maybe never existed, millions of people set out on Bank Holiday Mondays; how many find what they were searching for? Who knows? How many actually reach their intended destination might be a more useful question.
Why call them "Mrs Warboys days"? Because there is a memorable episode of the British television series One Foot in the Grave where Victor Meldrew, the chief character, and his wife set out for a Bank Holiday Monday outing with their friend Mrs Warboys. Poor Mrs Warboys spends four hours sitting in the back of the Meldrews' car, which is trapped in motorway traffic gridlock, looking at the bottom of a horse in a box being pulled by the car in front while Victor Meldrew rages against the world and against other motorists, articulating thoughts all of us have had, but would never put into words.
Days in Lyme Regis are always pleasant, but one suspects that on Mondays at the end of August one might have spent much of the time on the road, much better to go on a Tuesday in May.