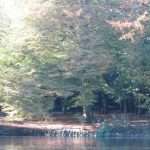 A friend returned from Canada this week, from Alberta. "What was the weather like?"
"Beautiful, just a touch of frost in the mornings, but blue skies and fine days."
It is the stuff of song sung by Neil Young song; the atmospheric "Four Strong Winds" declares, "Think I'll go out to Alberta, weather's good there in the fall." It's a song from the folk revival of the 1960s, which perhaps explains its capacity to endure, to speak to people long after its time. "Four Strong Winds" has a melancholic mood, but it seems always to have something liberating about it. It seems a declaration that the year is not dying, that life is still there to be lived to the full.
Going out to Alberta is the opposite of closing the curtains and switching on the television. Apparently, "Strictly Come Dancing" has returned to the screens along with the even worse "X Factor" programme. It is depressing that whilst former generations saw Saturday and Sunday evenings as occasions for going out, for, at the very least, calling with family and friends, people now see the hours as a time to sit and watch mediocre television, for mediocre it is. Would anyone sit and watch an amateur league soccer match on television, or a live broadcast of a band playing in a pub? Why then watch the formulaic programming that dominates the schedules with the affected gravitas of its judges and its pretence that the results are matters of importance? If any of the acts on "The X Factor" were any good, they would make it through the ordinary ways, they would not not need a plastic television programme concerned only with what is commercial, with what can be marketed to bring large rewards for those behind it.
Maybe going out to Alberta is not an option for most people, but surely they can manage more that just sitting and watching dross. Surely, there comes an autumn when people say, "Enough, there has to be more to life?" The lyrics of "Four Strong Winds" tell of someone whose life has become stuck in a rut, someone whose relationship has come to an end, someone who has made repeated efforts to re-capture the magic of former times, but who now realizes that it is time to break out, time to find freedom from the things that break the spirit.
The first frosts can be a reminder not of winter, but of a sense that it doesn't have to be this way. Get up, turn off the television, go for a walk, call with someone, stand and look at the night sky; do anything except sink into the quagmire of another Irish winter.