Together, everyone doesn't necessarily achieve more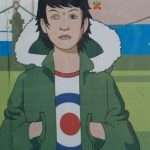 Have you ever had one of those conversations – who would your ideal set of dinner guests be? Never having dinner parties and never knowing anyone famous, let alone knowing what anyone famous might be like at a dinner party, it was the sort of question that was left unanswered.
There were similar such conversations in student days, except it was not dinner guests, it was musicians for the perfect gig. People would suggest the '27s' – Brian Jones, Jimi Hendrix, Jim Morrison and Janis Joplin, who died this day, 4th October, forty-five years ago, but it would be hard to imagine the four on one stage. Attending Glastonbury Festival (or 'fayre' as it was then called) in 1979, there had been such an experience, on the final night Peter Gabriel, Nona Hendrix, Steve Hillage, Phil Collins, John Martyn and Alex Harvey took to the stage together – in the memory it seemed a gathering of individuals rather than a band, maybe at the time it was more coherent.
Driving through the Irish Midlands late on a Sunday evening and listening to the radio, the presenter on Today FM played a song sung by Charlie T. Wilbury Jr. of the Traveling Wilburys, a group far more unlikely than any that might have appeared at Glastonbury. Charlie T. Wilbury Jr. was the alias of Tom Petty. The band included Nelson Wilbury – George Harrison, Otis Wilbury – Jeff Lynne, Lefty Wilbury – Roy Orbison and Lucky Wilbury – Bob Dylan. The band produced two albums between 1988 and 1990 which enjoyed success, but nothing like the success those artists had enjoyed as individuals. How many people in 2015 have even heard of the Traveling Wilburys?
It seems that the whole is rarely greater than the sum of the parts, and more often is less. It is not just a musical phenomenon. There are those Agatha Christie mysteries with all star casts where one spends more time trying to remember what other parts the actors have played, or wondering how they came to accept such a brief cameo role; a famous name or two would have been sufficient. How many international football teams fully represent the sum of the talent gathered together?
The perfect dinner party is not an assemblage of notionally perfect guests, it is a gathering of friends; the perfect soccer team is not a gathering of the notionally best players the perfect band is not a group of disparate egos, it is people who can create something that is greater than the sum of the parts.