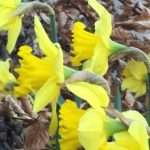 No Wordsworthian hosts, more clumps, dotted around the churchyard. The flowers of the Elysian fields surrounding the graves of the dead. Was there perhaps a time when the Church prohibited daffodils, seeing in them too much of a reference to a pre-Christian past? The Church has prohibited most things at one time or another, it would be odd if flowers escaped the injunctions of the bishops.
The gathering is much bigger than normal; "the biggest for years" declares one lady who has participated for the last thirty-odd years. Times being what they are, we begin with safety advice. Stewards in bright yellow will precede and follow those walking in the way of the cross. The cross is heavy, carried in relays by groups of three people, each new group stepping forward after we have paused at each of the fourteen stations.  The frost of the previous night has gone, but even at ten o'clock there is a chill in the air, its edge only slightly blunted by bright sunshine. The Scripture readings and prayers are familiar, but there is a reassurance in the familiarity and, this year, a sense of confidence. There are as many younger people as older ones, hands of children reaching to take their turn in the carrying of the cross.
Perhaps the allusion made by the daffodils to a pre-Christian idea of heaven is past, but pre-Christian customs linger. A conversation among a group recalls an Ireland that persisted through prohibition and disapproval.
"Didn't his mother have a cure for eczema"
"She did, but I don't think she passed it on."
"Didn't your mother-in-law have a cure?"
"Her cure was for burns."
"I remember a man who had the cure for shingles. I went to see him. He sprinkled water on and healed me. Some people just pray to heal someone."
"It's a pity the cures were not passed on."
"I think the son or daughter need to want to have the cure for it to be passed on to them."
There was a sense of unease while listening. Perhaps it was a discomfort at hearing of practices that seemed to run counter to traditional Christianity. Perhaps it was more that my English rationalism rebelled against any notion that physical healing could come from what would have been described as "quackery" by those in the community in which I grew up.
There was a momentary temptation to suggest that some conditions had a psychosomatic dimension and that the "healer's" intervention was no more than a placebo making people feel better in themselves, or to suggest that some conditions were going to clear up, anyway, and that any cure was irrelevant. But it would have spoilt the eirenic mood of the day, and hadn't the church spent too long assuming it knew everything?