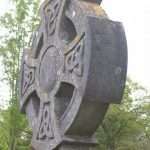 Driving to the north side of Dublin in times before the M50 was opened used to mean hugging the coast and crossing the East Link toll bridge so as to avoid the congestion of the city centre. The one attractive part of the route was the stretch of road passing Sandymount Strand. On a Saturday morning, on the day off, there was leisure to drive slowly and look out to sea. Driving the road with our ten year old son one Saturday, there was a sudden inclination to hurry along the way. Garda cars were parked at the roadside and on the beach there was something covered with a blanket, a pair of feet protruding from underneath the cover left one with no illusions – it was a body.
Our son, being ten years old, was required to sat in the back of the car and I hoped he hadn't caught sight of the body. Of course, to a ten year old, police cars parked at a roadside are an immediate magnet for attention. "Why are the Guards on the beach?" He asked.
"They must be investigating whatever it was that has been washed up on the beach, perhaps it is something illegal."
He was having nothing of such evasions. "It looks like a body to me."
The blunt truth seemed not to disturb him. It was a matter of straightforward fact and could not be avoided.
Children often seem better able to cope with the truth, particularly the truth about death and dying, than the adults who try to disguise it. Tom Stoppard's character Rosencrantz asks the question about children and the reality of death:
Whatever became of the moment when one first knew about death? There must have been one, a moment, in childhood when it first occurred to you that you don't go on for ever. It must have been shattering – stamped into one's memory. And yet I can't remember it. It never occurred to me at all.
Walking from a hospital ward where illnesses were serious, potentially terminal, there was an awareness of having engaged in evasions, having adhered to the old adage that whatever you say, say nothing. If a child had been present, asking questions, might they have been more direct? Might they have been more frank?
In college days, doctors teaching us pastoral care in hospitals would tell us never to tell lies.  If the truth was difficult, we might say we were not competent to comment, that the doctors were best qualified to speak, but that we should not tell lies.
If children cope best with the plain truth, might not adults cope better with what is true than with what is evasion?