Rector's letter, October 2016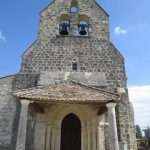 Sometimes things can take a lot less time than you think.
The Church of Ireland allows clergy to take sabbatical leave from time to time, periods away from the parish to allow opportunity for reading, study and thinking. The guideline is that sabbatical leave of three months might be granted every seven years. Having completed thirty years of parish ministry last June and never having taken a sabbatical break, I thought about taking one this last summer. We never know how things will turn out and, in retrospect, it was a blessing not to have gone away for three months.
What I did decide to do was to take the full holiday I was allowed under diocesan regulations. Being away for four weeks allowed time to stop completely and think about things, to learn from what can be seen around about.
Going to France each year has meant visiting many of the medieval Roman Catholic churches and noticing the way in which they do things. Ministry for most of the priests must be very discouraging. Parishes can contain twenty or more churches, on a map of one parish there were thirty-three. The arrangement seems to be that there is a weekly Mass in the main town and then Masses in the other churches on a rotation basis, perhaps only twice a year.
Pondering a parish notice board in one French town, there was a realisation that this is the way the Church of Ireland is going if we continue as we are. The French situation translated to the Church of Ireland situation in Laois and Offaly would mean services in places like Portlaoise, Portarlington, Birr and Tullamore and worship in smaller places becoming very infrequent. Yet we know that the less often services are held, the greater the likelihood that congregations will dwindle until they disappear altogether.
Three months of sabbatical leave would only have produced similar thoughts and a similar conclusion – that we need to look at the example of the church in the New Testament where local groups of Christians met for the breaking of bread on a weekly basis. Rather than the Church of Ireland thinking in terms of groups or unions or parishes, we need to think about individual churches. We need to reverse the trend toward more and more amalgamation and instead think about how each one of our churches might follow the pattern found in the Acts of the Apostles.
Travel to France and we can see in a short time what things will be like if we do not say that we want to do things in a different way.