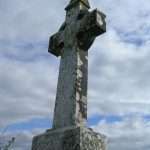 Our Mutual Friend commended itself because it was a Dickens novel more or less unknown to the popular media. There were no spoilers among Christmas viewing or school plays. It is an extraordinary novel in many ways, but for anyone in parish ministry, it identifies a particular character most clergy would recognise from their own experience:
That worthy couple were delayed by a portentous old parishioner of the female gender, who was one of the plagues of their lives, and with whom they bore with most exemplary sweetness and good-humour, notwithstanding her having an infection of absurdity about her, that communicated itself to everything with which, and everybody with whom, she came in contact. She was a member of the Reverend Frank's congregation, and made a point of distinguishing herself in that body, by conspicuously weeping at everything, however cheering, said by the Reverend Frank in his public ministration; also by applying to herself the various lamentations of David, and complaining in a personally injured manner (much in arrear of the clerk and the rest of the respondents) that her enemies were digging pit-falls about her, and breaking her with rods of iron. Indeed, this old widow discharged herself of that portion of the Morning and Evening Service as if she were lodging a complaint on oath and applying for a warrant before a magistrate. But this was not her most inconvenient characteristic, for that took the form of an impression, usually recurring in inclement weather and at about daybreak, that she had something on her mind and stood in immediate need of the Reverend Frank to come and take it off. Many a time had that kind creature got up, and gone out to Mrs Sprodgkin (such was the disciple's name), suppressing a strong sense of her comicality by his strong sense of duty, and perfectly knowing that nothing but a cold would come of it. However, beyond themselves, the Reverend Frank Milvey and Mrs Milvey seldom hinted that Mrs Sprodgkin was hardly worth the trouble she gave; but both made the best of her, as they did of all their troubles.
This very exacting member of the fold appeared to be endowed with a sixth sense, in regard of knowing when the Reverend Frank Milvey least desired her company, and with promptitude appearing in his little hall. Consequently, when the Reverend Frank had willingly engaged that he and his wife would accompany Lightwood back, he said, as a matter of course: 'We must make haste to get out, Margaretta, my dear, or we shall be descended on by Mrs Sprodgkin.' To which Mrs Milvey replied, in her pleasantly emphatic way, 'Oh YES, for she IS such a marplot, Frank, and DOES worry so!' Words that were scarcely uttered when their theme was announced as in faithful attendance below, desiring counsel on a spiritual matter. The points on which Mrs Sprodgkin sought elucidation being seldom of a pressing nature (as Who begat Whom, or some information concerning the Amorites), Mrs Milvey on this special occasion resorted to the device of buying her off with a present of tea and sugar, and a loaf and butter. These gifts Mrs Sprodgkin accepted, but still insisted on dutifully remaining in the hall, to curtsey to the Reverend Frank as he came forth. Who, incautiously saying in his genial manner, 'Well, Sally, there you are!' involved himself in a discursive address from Mrs Sprodgkin, revolving around the result that she regarded tea and sugar in the light of myrrh and frankincense, and considered bread and butter identical with locusts and wild honey. Having communicated this edifying piece of information, Mrs Sprodgkin was left still unadjourned in the hall, and Mr and Mrs Milvey hurried in a heated condition to the railway station. All of which is here recorded to the honour of that good Christian pair, representatives of hundreds of other good Christian pairs as conscientious and as useful, who merge the smallness of their work in its greatness, and feel in no danger of losing dignity when they adapt themselves to incomprehensible humbugs.
How many Mrs Sprdgkins are there?